Raaco is probably the best assortment system for wargames and boardgames on the planet!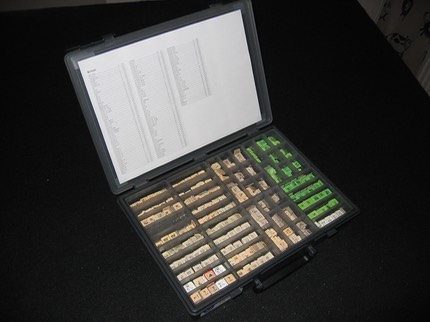 This section will hopefully answer all your questions about it. And if not, please don't hesitate to mail us your questions!
The complete ASL-prepared Raaco solution contains 2 Handybox equipped with 4 Raaco PSC4-01 each, 7 for the countries and 1 for the utility counters.
Each PSC4-01 have space for 16 insets, divided in two levels (ie 8 on every level). The insets come in 1, 3, 5 or 8 compartments (A71, A73, A75 and A78). There are also A81 and A91 which are two level high. Ie, deeper than the others.
The standard equipped PSC4-01 contains 12 A75 and 4 A78's.
Our recommandation for a complete set would be:

2 Handybags
7 Standard equipped PSC4-01
1 Empty PSC4-01
1 A71
1 A73
8 A78
6 A75
Please download our pamphlet and take a look at it. It's currently in Swedish, but if you don't read swedish you'll hopefully understand the ideas from the pictures.
FAQ
One of the most common questions we get is what the shipping cost is, so here are some typical shipping costs. Please note that the current value rate may make the final cost differ somewhat from this.
| | | |
| --- | --- | --- |
| Description | SEK | USD |
| 1 Raaco PSC4-01 | 319 | 39,9 |
| 1 Handybox Complete | 587 | 73,4 |
| 2 Handybox Complete | 922 | 115,3 |
Update 30th November 2011:
Due to a price rise from our supplier, we are forced to raise our prices on all Raaco products. We are very sorry for this, but are also proud that we've been able to keep the same price the last five years!